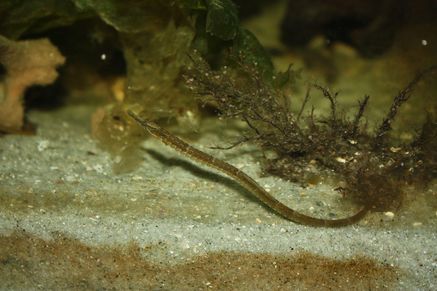 Northern pipefish
-Snout is tube-like and mouth is toothless
-The female lays the eggs in the male's pouch, incubation is 10 days
-Get up to 12 inches in length
-They imitate blades of grass by aligning themselves vertically within grass beds and swaying softly
-Closely related to seahorses
-Pipefish eat tiny crustaceans, fish and fish eggs


---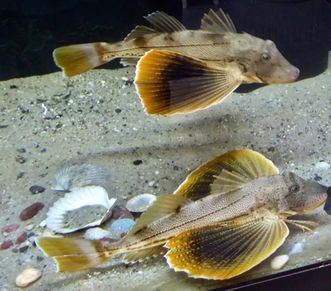 Sea Robin

-They are bottom-dwelling fish
-Sea robins have six spiny "legs", three on each side, these legs are actually flexible spines that were once part of the pectoral fin. They are

really used to explore the bottom in search of food

-The sea robin is a voracious fish feeding indifferently
- They produce an audible "croak"
---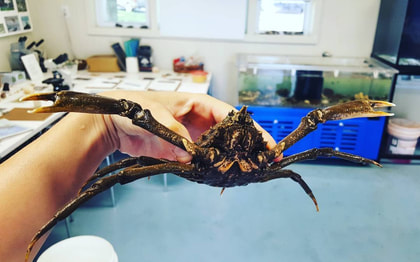 Spider Crab
-Very poor eyesight
-They have very powerful tasting and sensing organs on the end of each walking leg. This allows them to identify food in the water or in the mud as they walk over it.
-They are also called a "Decorator crab". They will attach bits of algae, shell, seaweed to the fine and sticky hairs on their carapace for camouflage.
-They are omnivorous

---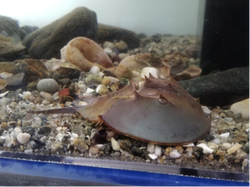 Horseshoe Crab
-Horseshoe crabs can live up to 20 years of age
-Horseshoe crabs have nine eyes scattered throughout their body including several more light receptors near their tail.
-They feed at night
-Horseshoe crabs are considered "living fossils"
-Horseshoe crabs are extremely important to the biomedical industry because of their unique copper based blue blood

---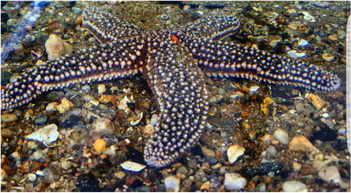 Common Sea Star
-Sea stars are carnivores, they eat snails, clams, oysters, mussels and barnacles
-An active sea star can travel one mile in about a week
-Sea stars have an eye spot at the end of each arm. This is a very simple eye that looks like a red spot. The eye doesn't see much detail, but can sense light and dark
---

​Get the latest news on all of our exciting Marine Education Center programs and events!​